Marshans,
Wow - we didnt realize how long its been since we updated our blog!    What a year 2022 has been!  We wrapped our year with our last live show (a total of 81 shows this year!) on Dec 4th with our Dear Marsha give back show - and we raised toys gift cards and cash to help 73 families staying at Ronald McDonald House Denver.   What an amazing fan base we have!!!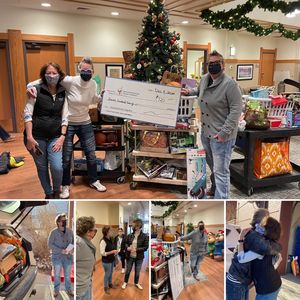 This last year also brought us 3 single releases (Where U Wanna B, HeartBreaker, and Cali Girl) from the new album.   The next single, Broken, will be releasing in just days on Jannuary 1, 2023!  Details on our Tunes Page
So many amazing shows this last year, fan base growth of almost 30% and so many amazing smiles, hugs, dances and cherished moments shared with you all at our live shows!     Thanks to our dear friend and "little sister" Melissa Crispo for taking us along to perform at Women's Week in Provincetown, MA and are excited to already be booked again for next year!   Mark your calendars - Oct 9-15th 2023!
2023 is already proving to be crazy and fun with our upcoming Album Release Party on Feb 18th!   We will be celebrating 28 years, Raina's 50th Birthday and will be sharing the stage with national act, No Small Children from LA, Melissa Crispo, and Bug Frances!   Tix to go on sale next week - watch for the link!   Word on the streets is there will be autographed guitar give-aways!
WE are also putting together a STELLAR 2nd Annual Women Who Rock the Rockies show - look for some very exciting details coming soon on that show June 23, 2023!
We wish all our Marshans a great close out of 2022 and are excited to get back to work and live shows in 2023!    For upcoming show listings you can check out our tour page www.dearmarsha.rocks/tour
NEW T SHIRTS COMING ALONG WITH NEW MERCH OPTIONS along with some Marshan Fan Club group exclusive Merch!
See you all in 2023!!  Happy New Year Marshans!
Raina and Wendy