Raina Ayres - Lead Diva ("the singer'")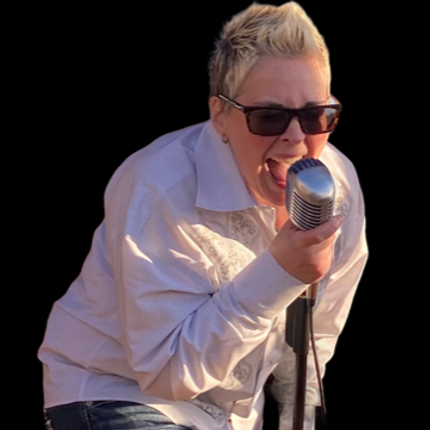 Raina was born in Lubbock Texas on a balmy February morning while Buddy Holly was swooning her mother during labor.  Things didn't work out so well, you know- planes and all during that era..  The kinfolk said "ya'll move away from there" Said "Amarillo is the place you ought to be"  So they loaded up the truck and they moved to Amarillo... Texas that is. 
Raina found acting as an interest at a young age and it wasn't long after that she got the singing bug.   At age 12 she entered a competition in school and discovered her talents were much more than four shower walls.  She was in choir throughout her school years (she even did a cameo in Glee – oh wait, that wasn't in the 80's) and competed in solo, ensemble, jazz blues and foreign languages.
She knew her destiny lay in a college career at Amarillo College where she was an opera major, performing in operas, Renaissance choir, and perfected the art of singing in five other languages.  
It was during her hard time served at AC that she met the coolest nerd ever, Wendy, toting her bass to jazz practice.   They quickly discovered their same passion and new career choice – Rock-n-Roll.   The two performed in a band together in the early 90's in the dusty west Texas plains, The Crystal Cadillacs.  As most bands do, the Cadillacs disbanded and Raina and Wendy took off to set roots in Denver, Colorado (well before certain plants were legal).   They became starving song writers and quickly developed their acoustic driven style of rock and finally found a name, Dear Marsha, !  Raina refined her skills in stand-up comedy (the singer has to do something while the band tunes in between songs!) and the rest is history!
Raina's influences include Janis Joplin, Tina Turner, Elvis, Madonna, Bette Midler, Melissa Etheridge, Dave Mathews, Indigo Girls, Aretha Franklin, Ray Charles